Thanks to the introduction of the Government's Resolutions 01 and 13, Viet Nam has gained a number of positive socio-economic achievements in 2012, official said.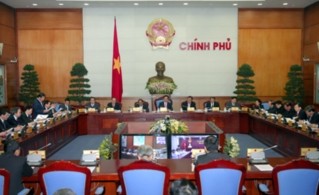 A view of the ongoing videoconference meeting between the Government and localities
According to the report presented by Minister of Planning and Investment Bui Quang Vinh at the on-going videoconference meeting between the Government and localities, the country succeeded in curbing inflation and stabilizing macro-economy.
The consumer price index (CPI) in December 2012 only increased by 0.27% against the previous month and up 6.81% in 2012, according to the General Statistics Office.
The inflation rate in 2012 stood at around 8%, achieving the Government's goal, the Office said on December 24.
The total export turnover was estimated at US$114.6 billion this year, up 18.3% compared to the National Assembly's preset target of 13%.
With the import value of US$114.35 billion, Viet Nam posted a trade surplus of around US$284 million, equivalent to 2% of the total export volume.
Industrial production index rose 4.8% against 2011 and inventories in processing and manufacturing sectors began to fall gradually.
Despite natural calamities and epidemic diseases, rice output is expected to touch 43.6 million tons, an increase of 3% against the previous year. Of the figure, 7.7 million tons were exported.
National economy continued to expand quarter after quarter and was estimated to grow 5.03% for the whole year. This is the reasonable growth rate amid economic hardships.
Other sectors also recorded positive achievements.  Total retail sales of goods and services may rise 16% and the number of foreign arrivals was estimated to climb 10.6% during the past year, and poverty rate dipped by 1.76% against 2011.
The above positive signs came as the Government adopted a number of policies to pull down interest rate, increase credit for prioritized areas, extend corporate tax payment, and support production and business, the report says.
However, challenges still remain ahead with unstable macro-economy, low growth rate, slow industrial production recovery, high inventories an interest rate, slow settlement of bad debts.
Minister of Planning and Investment Bui Quang Vinh said the above shortcomings are mainly due to inefficient economic structure which has been slowly improved and due to weak management.