The 13th annual KOVA Awards honoured 29 individuals and groups of people, who are outstanding scientists, students and community contributors, in Ho Chi Minh City on January 9.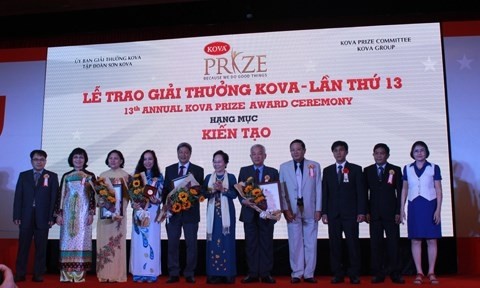 Doctors of Cho Ray Hospital receive KOVA Awards. (Source: phapluattp.vn)
Awards were presented to five researches on applied science, six people who have done great works to benefit the society and 18 students with outstanding research performance.
In her remarks at the award ceremony, Vice President Nguyen Thi Doan spoke highly of the winners. The awards are sources of encouragement to these people and more importantly, nurture the future of the country, she said.
KOVA Awards Committee should also work closely with media agencies, research institutes, universities and localities from across the nation to look for more outstanding individuals and groups, especially those in far-flung areas, Doan added.
Among the winners, was a study paper on 'building and applying antibiotics use management' at Cho Ray Hospital by a team of 50 doctors at the hospital.
Thanks to the work, misuse of antibiotics at the hospital dropped 57.8 percent while antibiotics use, length and cost for treatment and infection rate were also reduced.
It has then been applied to about 60 other hospitals in more than 20 southern provinces and cities.
The award would be a motivation for the doctors to further dedicate themselves for the country, Assoc. Prof. Dr. Nguyen Van Khoi said in his acceptance speech on the behalf of the team.
This year's KOVA also presented 100 scholarships, worth 8 million VND each, to impoverished students with excellent academic performances from 50 public universities nationwide.
The Awards were initiated by Assoc. Prof. Dr Nguyen Thi Hoe, who is also Chairwoman of KOVA Paint Group, in 2002.