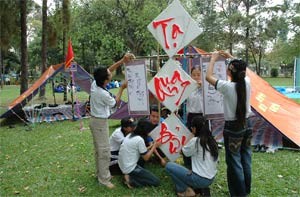 Students designing their camp on January 6 - Photo: Mai Hai
More than 1,000 high school students took part in the camp "Viet Nam on the development gateway", held at the Reunification Palace on Saturday.
They were exciting to play outdoors activities, contests of eloquence and masquerades. They had a chance to exchange ideas with student models on aspirations and duties to the city and the country.
With the various activities, the organizers intend to introduce a generation of dynamic and creative students to the society.
Deputy Chairman of the Ho Chi Minh City People's Committee Nguyen Thanh Tai participated in the opening ceremony of the event.