Over 100,000 Agent Orange victims across the country haven't yet enjoyed social welfare policies, said President of the Vietnam Association of Victims of Agent Orange (AO)/ Dioxin (VAVA) Senior Lieutenant General Nguyen Van Rinh at a press brief on July 7 in Hanoi to mark the day of August 10, 1961, fifty-five years ago as the US military first sprayed Agent Orange in Vietnam.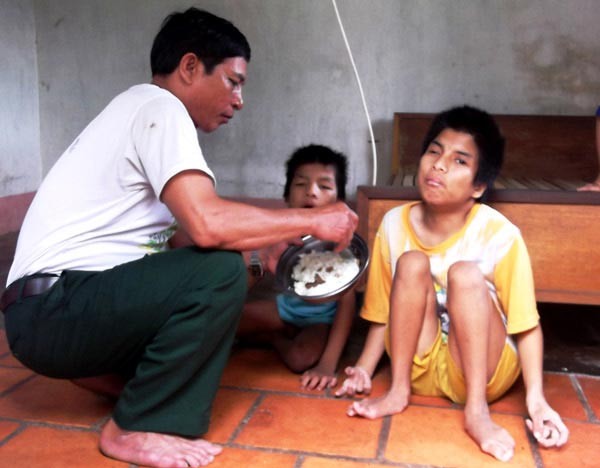 Families of Agent Orange victims live in poor condition (Photo: SGGP)
VAVA will liaise with other agencies to organize meaningful events aiming to financially and spiritually support Agent Orange families to overcome their daily difficulties.
Currently, Mr. Rinh said that over 100,000 Agent Orange victims have not enjoyed the social welfare policies because they have not complete needed paperwork such as medical assessment.
Before, VAVA has worked with the Ministry of Labor, Invalids and Social Affairs and the Ministry of Health to help them completing the paperwork yet it has not resolved yet.
VAVA presidents stressed that though the war took place 40 years ago, the disaster of Agent Orange carried out by the US troop caused catastrophic consequences for Vietnamese and the country's environment.

The country has over 4.8 million people exposed to the deadly chemical; of whom, three million are Agent Orange victims. Moreover, thousands of Vietnamese people died of cancer and incurable diseases.