National Secretariat's Committee of the 2017 APEC in collaboration with Vietnam Foreign Affairs Ministry yesterday organized a ceremony in Nha Trang city of Khanh Hoa province to announce about the first APEC Senior Official Meeting (SOM1) and other relevant conferences which are scheduled to take place from February 18 to March 3.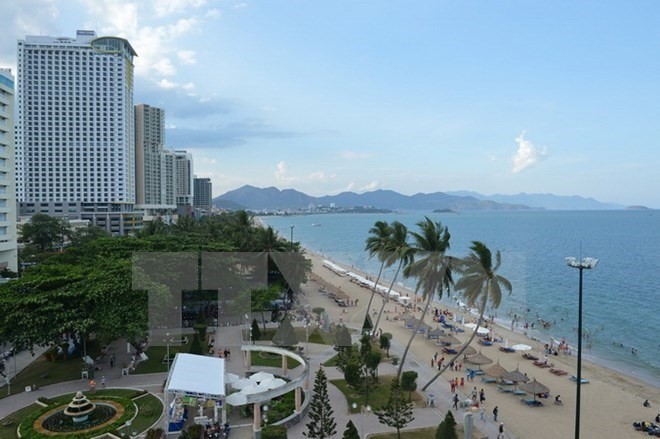 Nha Trang City in Khanh Hoa province is scheduled to host the first APEC Senior Officials' Meeting (SOM1) from February 18 to March 3, with 80 meetings. — VNA/VNS
The event is the first general conference of the 2017 Asia- Pacific Economic Cooperation –APEC which is hosted in Vietnam.
The SOM1 is taken place in Nha Trang and others localities such as Da Nang, Ha Noi, Ho Chi Minh City, Quang Nam, Can Tho and Quang Ninh.
At the meeting, Deputy Head of the APEC 2017 National Secretariat's Standing Committee Nguyen Minh Vu said that there are 56 meetings, workshops and dialogues of 38 APEC committees and working groups in fields of trade and investment, business, natural disaster response, human resources development, education, e-commerce and services, ocean and fishing, businessmen travel facilitation which are expected to contribute to seek solutions for boosting economic growth, deepening inter-economic connection among the APEC's 21 member countries. This is also an occasion for Khanh Hoa to promote its potentialities, strong points; and call for investment.
Chairman of the APEC Senior Officials Meeting 2017, Deputy Minister of Foreign Affairs Bui Thanh Son will chair the SOM1 and the meeting of Chairman's Meeting on connectivity. Besides that, 13 ministries and agencies of Vietnam will chair or play role as chairman and vice chairman of the APEC's committees and working groups.
According to the 2017 APEC National Secretariat's Committee, more than 1,700 delegates have registered to take part in the event. Among them, China and the United States have registered to participant with 140 members for each.