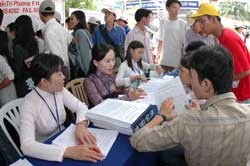 The consulting program helps students in finding and keeping a job (Photo: SGGP)
More than 2,500 higher education students in Ho Chi Minh City have taken part in a consulting program to get general ideas and experience about the corporate environment.
The one-month program, which was wrapped up on May 6, 2006, was co-organized by Jobviet.com and the Communist Youth League units of universities in Ho Chi Minh City.
In the program, students met with business executives to learn about how to get employed after the placement, how to integrate into a new working environment in the first two working weeks, what companies require from a university graduate, how students can prove their capability, and the like.
The main purpose of the program was to help students find a job and be able to work effectively at their companies.