A further of 3,150 megawatts of electricity will be hooked to the national grid by the end of this year, the Electricity of Vietnam Group (EVN) recently announced.

This increase has come about through a number of plants coming online, including Pleikrong Hydroelectricity 1 in Kontum Province, Quang Ninh Thermal Power 1 in Quang Ninh Province and Hai Phong Thermal Power 1 in Hai Phong City.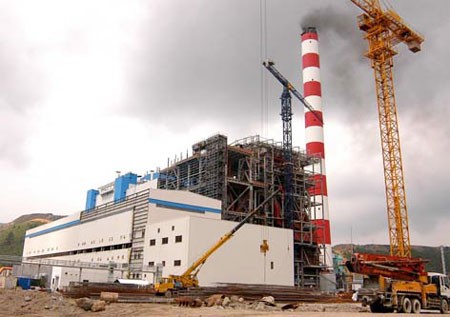 A thermal power plant under construction in Quang Ninh Province (Photo: EVN)
Earlier, EVN has put five power plants into operation, including O Mon Thermal Power 1 in Can Tho City, Buon Kuop Hydroelectricity 1 in Dak Lak Province, Ba Ha River Hydroelectricity 2 in Phu Yen Province, Tuyen Quang Hydroelectricity 2 in Tuyen Quang Province and Uong Bi Thermal Power 1 in Quang Ninh Province, which all have generated a total capacity of 994 megawatts.

EVN has additionally put 15 electricity grids into operation, including the 220 kilovolt Quang Ninh- Hoanh Bo and 220 kilovolt Ca Mau – Bac Lieu transmission lines, expanded the 220 kilovolt Hoang Bo Power Station and improved the capacity of the 220 kilovolt Thai Nguyen Power Station.