In addition, the river receives 150,000 cubic meters of wastewater from over 400 craft villages and thousands of breeding farms and nearly one million cubic meters of household wastewater a day.

At a meeting of the commission recently, the leader of Environmental Crimes Fighting Agency under the Ministry of Public Security said that the Dong Nai River is heavily polluted. The alarming and out of control pollution is likely to kill the river if relevant sides do not solve the issue right now.
The quick increase in the number of industrial parks and residential areas has prompted provinces in the valley of the river to join hands in reducing water pollution and ensure sustainable life for tens of millions of residents in the southern key economic zone, especially Dong Nai province and Ho Chi Minh City.
Dong Nai based Bien Hoa 1 Industrial Park built in 1963 over 320 hectares is the oldest one in Vietnam. At present, there are 80 businesses operating in the park. They release over 9,000 cubic meters of wastewater a day.

Of these, only 1,000 cubic meters are treated through the wastewater treatment system of the province. Businesses handle the remaining volume themselves and discharging into the Dong Nai River. This is said one of the main factor for the degrading water quality in the river.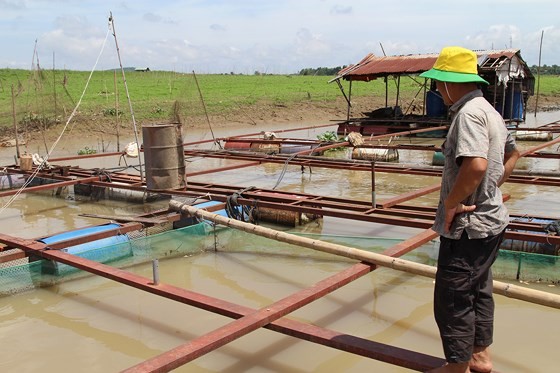 La Nga fishing raft village is one of major sources polluting the Dong Nai River (Photo: SGGP)
Along a short stretch from the fishing raft village in the Cai River in Tan Mai ward, Bien Hoa city to Bien Hoa 1 Industrial Park, Sai Gon Giai Phong reporters saw lot of sewer system releasing black and effervescent wastewater from plants in a recent survey.
Mr. Hung, a man lives in the ward, says that river water pollution is visible now. The river is very smelly during dry season. Few years ago, fish farmed in Tan Mai raft village died en-mass. Authorized agencies determined that the fish death was caused by wastewater from a nearby plant and forced it to compensate.
Many fish farmers in canals alongside the Dong Nai river have left their jobs because of polluted river water.
Besides businesses in Bien Hoa 1 industrial park, the wastewater system of Bien Hoa city is also a polluting source of the Dong Nai River.
Observation results by Environmental Observation Center under Dong Nai province Department of Natural Resources and Environment show that the Dong Nai River water is heavily polluted at confluences where springs run into the river in Bien Hoa city.
The springs comprise Linh in Tam Hiep ward, San Mau in Tan Mai ward, Siep in Tan Van ward and Ba Lua in Long Binh Tan ward, where carry streams of black and stinking household wastewater to the river.
Residents living in fishing raft villages in tributaries of the La Nga River in Dinh Quan district and the Cai River in Bien Hoa city also released a large volume of waste into the river. Bien Hoa city now has over 850 fishing rafts of nearly 400 households worsening the pollution.
For the last many years, people in Tan Mai fishing raft village have suffered en-mass fish death because of water pollution. Mr. Tan Van Sang, owner of a raft there, said that despite pollution, he must ignore it and kept farming to earn a livelihood.
Pollution is not the single issue in the Dong Nai river where has undergone landslide, rampant sand drilling and river reclamation projects.
Dong Nai province has made lot of effort to reduce pollution in the river for the last few years. However these efforts are insufficient because of the fast development of industrial parks and residential areas.
The province has assigned Sonadezi Industrial Zone Development Company to implement a VND15 trillion (US$632.21 million) project to turn Bien Hoa 1 industrial park into an administrative, trading and urban center of the province. However the park removal plan has seen no progress because of legal problems. Half of businesses in the park have signed land lease contracts until 2050. Many of them said there should be a compensation plan for their damage from the removal.
A couple of years ago, Bien Hoa city authorities have planned to rearrange Tan Mai fishing raft village, where is home to 300 fishing households, and reduce the number of fishing rafts there without agreement from fish breeders.
Dong Nai province effort alone is insufficient to reduce water pollution in the Dong Nai river.
At a meeting of the Dong Nai River Environmental Protection Commission recently, chairman of the provincial People's Committee Dinh Quoc Thai, who is chairman of the commission, required provinces and cities in the valley of the Dong Nai river to continue working closely with the commission to share information and management experience to settle environmental problems in the river together.