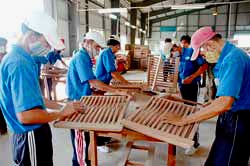 Rehabilitated drug users are working in Nhi Xuan Industrial Complex.
As many as 521 ex-drug addicts have so far rehabilitated back to healthy lifestyle again, announced the Department of Social Evils Prevention (DSEP) in Ho Chi Minh City.
Over 190 rehabilitated drug users have returned to their residence localities, around 180 others will be employed in Nhi Xuan Industrial Complex, 41 people will resettled in Phu Van Drug Rehabilitation Center and the remaining over 100 will work at some schools and centers.
DSEP also reports that so far over 3,000 rehabilitated drug addicts have been qualified in time training (48-month detoxification) for home-return consideration, not mentioning 41 people in other Rehabilitation Centers now getting ready to be home after 60 months of detoxification.