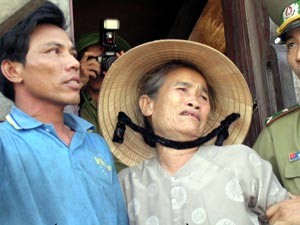 A mother cries in relief on seeing her son returning from the typhoon Chanchu
As many as 600 people survived and 28 boats were rescued from the tropical typhoon Chanchu. Another report said that the tropical storm Chanchu left a wreck of 12 fishing boats and 8 vessels missing. The final tally of missing sailors could not yet be reached, especially ones on the sunken boats.
The three fishing boats with 77 surviving sailors returned to Han River port in the morning on May 25. A few minutes later, the naval ship HQ 628 carrying 3 corpses and 26 fishermen came into the port. All the bodies were immediately taken to a morgue to have DNA profiling.
Massive search-and-rescue operations will go on for many more days, a naval official told reporters.
Authorities from Da Nang revealed that another 18 fishing boats with 432 surviving people had arrived at Da Nang port. All up, a total of 20 boats with over 500 sailors and 18 bodies have landed in Da Nang.
Five fishing vessels, carrying 54 people and a dead, had landed safely with the assistance of a naval ship. More than 10 injured fishermen were then rushed to hospital in Quang Ngai.
A local official in Quang Ngai stated that the powerful typhoon left 1 death, 21 missing, 2 shipwrecks, 3 vessels missing and caused losses totaling over VND7.5 billion. Reportedly, typhoon victims have, so far, received a donation of more than VND1.2 billion.
Two more boats of Quang Nam, QNa 9145 and QNa 9073, with 48 sailors were rescued on May 25, said the local official.
The latest report on May 25 said that as many as 27 boats and 613 people were saved from the tropical storm Chanchu, and 19 dead fishermen were broguth ashore.
Related Articles:
362 More Typhoon Victims Saved
Assistance for Victims To Overcome Damages of Typhoon
Over VND90 Million Donated to Typhoon Victims
President Tran Duc Luong Sends a Message of Condolence to the Typhoon Chanchu's Victims
State President Tran Duc Luong Sends a Message to Thank Chinese President Hu Jintao
China Rescues 330 Vietnamese Fishermen
Sai Gon Giai Phong Newspaper Raises Funds for Typhoon Chanchu Victims
General Secretary Sends Condolences to Typhoon Victims' Families
Central Vietnam Fishermen Return from Storm
Central Viet Nam's Fishermen Affected Most Seriously