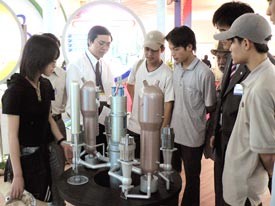 People are observing the model of Korean Nuclear Power Manufactory
More than 80% of people in a survey by the Viet Nam Atomic Energy Institute (VAEI) and relevant agencies said they support the country's nuclear power development for civil purposes, VAEI Director Vuong Huu Tan said.
He announced this result at the 'Safety and Economic Competitiveness of Nuclear Power' seminar in Ha Noi on May 16. The workshop was part of an international exhibition on nuclear power, with the same theme, also opening the same day in the capital city.
The survey was conducted as the institute plans to build Viet Nam's first power plant in the central province of Ninh Thuan in the next few years.
The exhibition, which lasts until May 19, drew the participation of exhibitors from France, Japan, the Republic of Korea and Russia, four countries with advanced nuclear power industries.