According to the Ministry of Planning and Investment, more than VND 626 billion will be invested in improving 12 canals used by farmers for crop irrigation and as transportation by fishermen in the Mekong Delta between 2006 and 2010.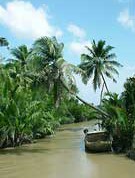 A canal in the Mekong Delta
The funds will allow for some much needed improvements to irrigation channels and waterways. The canals are vital to the producers of the region, and these improvements will be of great help to their business.

Work will be done on the Tan Thanh-Lo Gach Canal, completing the second stage of the Bao Dinh project, the Dong Tien - Lagrange Canal, the Phuoc Xuyen - Hai Tam Canal, the An Phong - My Hoa-Bac Dong Canal, and the Nguyen Van Tiep B Canal, as well as dredging of the Tra Su - Tri Ton Canal, the Chac Nang Gu Canal, the My Thai Muoi Chau Phu Canal, the Ha Giang Canal, the Quan Lo Phung Hiep Canal, and the joining canal of Tien and Hau Rivers.
The Ministry of Planning and Investment allocated the capital for these projects from the budget of the Ministry of Agriculture and Rural Development. The funds will be spent based on priority. The ministry stated that it is confident that the project will be completed on schedule.