Ideas and suggestions by overseas Vietnamese at the first conference in Vietnam for them are basis for the Vietnamese Party and State to work out policy decisions towards the expatriates, Deputy Prime Minister Pham Gia Khiem said at the closing session Monday.
Mr. Khiem, also the Foreign Minister, said the first conference was a symbol of the strong will and desire of the four million Vietnamese living abroad to create united community that would help develop the fatherland.
About 900 expatriates from 52 countries and territories participated in the conference, held in Hanoi Nov. 21-23. The participants praised Vietnam's policy of solidarity and harmony.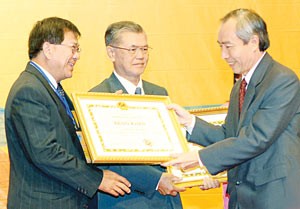 Vietnam Fatherland Front president Huynh Dam (R) hands the Foreign Ministry's certificates of merit to overseas Vietnamese in Hanoi Nov. 23 (Photo: SGGP)
The expressed their joys at the national construction effort, and affirmed that they are always thinking of their country and hope the conference will become an annual event.
They also said they looked forward to more opportunities to invest and cooperate with local businesses.
Nguyen Thi Thap, a Vietnamese woman living in France, said at the closing session that she believed that after the conference, overseas Vietnamese would get much more information about the motherland, thus making more contributions the homeland.
Deputy Foreign Minister Nguyen Thanh Son, chief of the Overseas Vietnamese Committee, said all the ideas from the participants would be sent to relevant ministries and departments that could work out solutions and policies to meet their demands.
Deputy Prime Minister Truong Vinh Trong said the Vietnamese Party and State attach great importance to overseas Vietnamese affairs as they are an inseparable part of the nation, and a vital resource.
Mr. Trong also received a delegation of Vietnamese Americans in Hanoi Monday.
On the same day, the Ministry of Foreign Affairs and the Overseas Vietnamese Committee presented 21 medals to overseas Vietnamese individuals and organizations for their contributions to community building and the development of the country.