"Connecting Young Vietnamese" is the theme of an online exchange of overseas Vietnamese young people and students organized on January 6, by the Ho Chi Minh Communist Youth Union, the Vietnam Youth Federation, and the Vietnam Students' Association.
The event saw participation of Vietnamese officials in Vietnam and of Vietnamese students at 11 exchange points based at Vietnamese Embassies in China, Thailand, Laos, Singapore, France, Cuba, Poland, Japan, Russia, Republic of Korea, and the Czech Republic.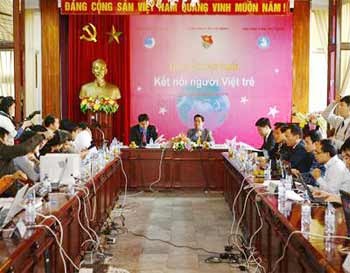 Vietnamese officials take part in an online exchange themed "Connecting Young Vietnamese" held January 6 with participation from overseas Vietnamese at exchange points in 11 countries. (Photo: Ha Noi Moi)
Many young Vietnamese said they were interested in what support the Government is giving to overseas Vietnamese, including young people, and "what they can do to contribute to the Fatherland."
Vietnamese young people in the UK has sought funding from businesses in Vietnam and other countries to organize annual activities towards the Fatherland, with the participation of 500-600 students, said Dinh Mai Long, a member of Vietnam Youth Federation's Executive Committee, who is in charge of the Communist Youth Union's activities in the UK, said.
These activities include singing contests, football tournament, scientific seminar, among others, he said.
There have been some overseas Vietnamese students in the UK volunteered to act as coordinators for Vietnam's programs.
Bui Le Minh, of the Sub-Association of Vietnamese Students at the Korea Advanced Institute of Science and Technology (KAIST) in Republic of Korea, asked: "If we wish to join volunteer activities with young people at home, do you have any advice for us?"
"You should contact the Vietnamese Embassy in Republic of Korea or the Association of Fellow Countrymen… You can teach Vietnamese to Vietnamese children of the third generation there… Particularly, you can teach Korean to Vietnamese women who got married to Korean husbands there…," replied Nguyen Phuoc Loc, standing deputy chairman of the Vietnam Youth Union.
In response to the initiatives that there should be websites or information channels particularly set up for Vietnamese overseas young people, deputy chairman of the State Committee for Overseas Vietnamese, Tran Dang Mau, said the committee would work with the Vietnam television to launch a specific program for Vietnamese postgraduates abroad.
Concluding the exchange, Nguyen Dac Vinh, chairman of the Vietnam Students' Association and secretary of the Communist Youth Union's Central Committee, said: "Overseas Vietnamese young people is an inseparable part of Vietnamese youth. We will consider your initiatives and will support you."
We hope every young people will bring into play their capabilities in the fields they are engaged in to create the best image of Vietnamese young people in the eyes of international friends."