The Ho Chi Minh City's Committee for Overseas Vietnamese recently submitted to the city authority a proposal asking to offer overseas Vietnamese full ownership of land and house, Vice Chairman of the Committee Nguyen Viet Thuan announced on July 24.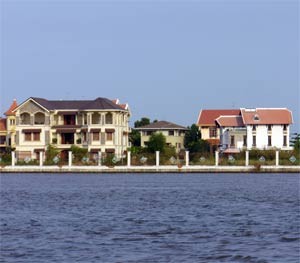 Sai Gon riverside villas are constructed to meet the increasing demand for accomodation by overseas Vietnamese. (Photo:TK)
The proposal said overseas Vietnamese who were allowed to purchase and possess houses must have full rights of ownership in accordance with the laws. Accordingly, they must be allowed to trade in real estates in their homeland, transfer land use rights, and sell or rent land or houses instead of being allowed to buy houses only for living as under the existing regulations.
Currently, there are four groups of overseas Vietnamese allowed under the Land Law to purchase properties, effective since 2003. They are investors, who must obtain an investment license, scientists and experts, who must have invitations from Governmental agencies, and people having contributed to the country's development, who must show certificates of merits signed by the Vietnamese Prime Minister.
The law pointed out in item 1 of clause 121 that the Standing Committee of the National Assembly (NA) will release criteria under which other overseas Vietnamese would be allowed to buy housing. However, there has not been any directive from the NA regarding this matter yet.
Thus, Mr. Thuan said that the proposal also included his request for a regulation from the NA that would allow other overseas Vietnamese individuals not included in these groups to purchase housing.