Agricultural production accounts for 70 percent of Vietnam's area and nearly 70 percent population enjoying advantageous soil and weather conditions, however farmers have been poor while citizens are facing unclean and unsafe food everyday. This is one of reasons prompting overseas Vietnamese to invest in hi-tech farming.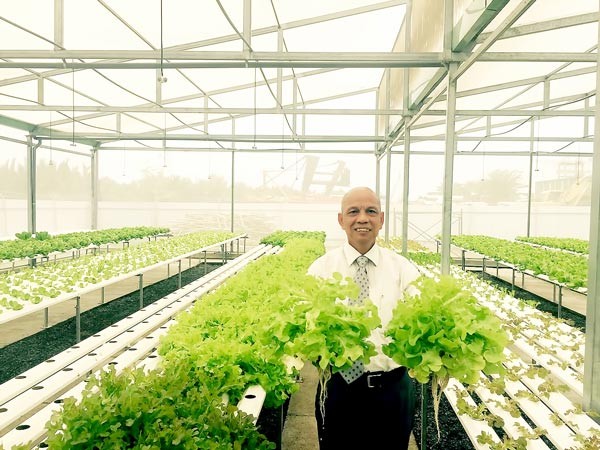 Mr. Peter Hong, overseas Vietnamese in Australia, at his profitable hydroponic vegetable farm, District 2, HCMC (Photo: SGGP)
Among them is Dr. Nguyen Thanh My, overseas Vietnamese in Canada, who was born and grown up in the country's rice granary Mekong Delta but did not take notice of farming until 2015 when he handed over the management of US$100 million My Lan Group, which he was director general for ten years, to his wife and retired at age 60.
A couple of weeks after the retirement, he felt still healthy to do something rather than leisured. Regularly hearing media news about dirty food or unsafe food, Mr. My started a new business by developing Rynan AgriFoods Company in the Mekong Delta province of Tra Vinh focusing on hi-tech application in agricultural production.
The company has studied smart fertilizers including slow and controlled release compost to help farmers halve fertilizer use. Instead of fertilizing four times per crop, farmers just do it once during land preparation. The new method has increased productivity over 10 percent and cut greenhouse gas emission from fertilizers by 50 percent.
At present, he is building a smart farming method applying cloud computing model in quality measurement, distribution and water management to help farmers automate cultivation and save water, energy and labor.
In preservation, he has worked on the production of multilayer lamination films for package with high air-barrier ability to lengthen food and farm produce's preservation time by 3-5 times over normal without chemicals or refrigeration.
Another example is overseas Vietnamese in Australia Peter Hong, chairman of the Overseas Vietnamese entrepreneurs Association, early last year he invested in clean vegetable under GlobalGap quality standards in District 2, HCMC. Investment is VND8.5 billion (US$376,000) a hectare which he said much lower than the offered price of about VND18-40 billion by partners from Israel, Thailand and Japan.
Five hectares of hydroponic vegetables yield seven tons a month with the selling price of VND127,000 a kilogram. The farm's caring has been carried out by 12 part-time students. Cost price is less than VND5,000 a kilogram and harvest has been insufficient to meet demand so he has reclaimed capital after a year, told Mr. Hong.
The hydroponic growing model just needs sunlight and fresh water which will be treated in three days before being sent to Pasture Institute for testing to meet clean standards. The farm has installed solar panels reducing power cost by half compared to the national grid.
Without putting any nutritive substance in the water, vegetables have been harvested after 38-44 days, half a month longer than normal, and eatable right after harvest without washing.
He has worked with an industrial zone to grow five hectares of vegetables by the end of this year and HCMC National University to farm other three hectares under the above method, intending to lower clean vegetable price for workers and student canteens to VND30,000-40,000 a kilogram.
Since 2013, Oversea Vietnamese in Russia Vu Thi Mai Lien has hired 8.5 hectares of land in Ba Xe island, the southern province of Dong Nai to breed wild ducks in a totally natural way. She sells 10,000 ducks to local restaurants a month now.
Dr. Nguyen Tri Dung from Japan has changed a 30 hectare mango orchard in Tra Vinh province from "pumper crop, poor price" condition into "high demand and price" by applying new farming model, in which mangoes are covered with Nanocomposite nylon bags having millions of tiny holes to prevent insects from accessing the fruits but still permitting air circulation.
Thanks to this, the mango orchard has no longer used pesticide. Yellow and shiny fruits looking more eye-catching have been packaged for home delivery at the price of VND400,000 a kilogram and supply has been lower than demand.