Deputy Chairman of the Vietnam Fatherland Front (VFF) Central Committee Nguyen Van Pha had a meeting with overseas Vietnamese delegation yesterday who returned their home land to celebrate upcoming National Day (September 2).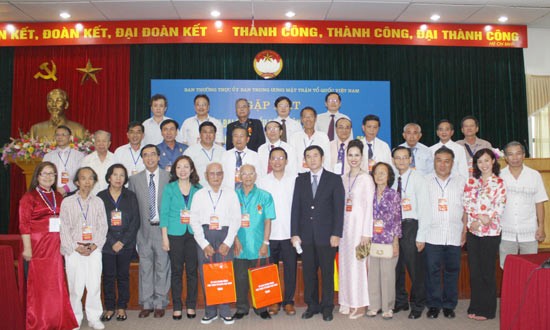 Overseas Vietnamese delegation takes photo at the meeting.(Photo:SGGP)

The delegation includes 30 Vietnamese expatriates from 10 countries who represented for approximately 4, 5 million Vietnamese people living and working throughout the world.

Despite of living and working abroad, Vietnamese expatriates always keep close watch toward the country's development as well as contribute to the country's economic development and integration, Deputy Chairman stressed at the meeting.

The expatriates expressed their desire that Vietnamese Communist Party, State and relevant agencies will continue creating best conditions for young overseas Vietnamese to work in their home land.

Deputy Chairman said: "Pursuant to Resolution no 36/NQ-TW, overseas Vietnamese play an important role in linking Vietnam and the other countries as well as strengthening friendly cooperative relations between Vietnam and the countries worldwide. The Party, State and Vietnam Fatherland Front Committee have always created favorable condition to support Vietnamese communities abroad in the previous times".
Box: During the 7 day visit, overseas Vietnamese delegation will join in events such as visiting President Ho Chi Minh Mausoleum and Presidential Palace, offering flowers and burning incense to late General Vo Nguyen Giap and late President Ho Chi Minh at the K9 historical site, a parade to mark 70 years of August Revolution and National Day.
Moreover, the delegation will visit historical sites and famous landscapes of Vietnam such as the Thang Long Imperial Citadel in Hanoi, Tran Temple in Nam Dinh province and Friendship border gate in Lang Son and others.