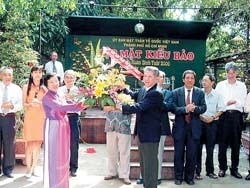 Overseas Vietnamese are honored at a ceremony held in Ho Chi Minh city 
The Science and Technology Club for overseas Vietnamese (locally known as Viet Kieu) was recently introduced in a ceremony held by the Committee for Overseas Vietnamese Affairs in Ho Chi Minh City.
"Under the auspices of the Overseas Vietnamese Committee, the non-profit club serves as a link between overseas Vietnamese intellectuals from home and abroad, marking a turning point in attracting the intelligence of the Overseas Vietnamese to contribute to the homeland development," said Professor and Doctor Dang Luong Mo, Head of the board in charge of establishing the club.
After one year of working, the club attracts the participation of 128 overseas Vietnamese, among whom are 109 official members. Most of them are from Germany, USA, Japan, France and Australia.
The provisional administration board heading by Chairman MSc Tran Ha Anh, the former Director of the Nuclear Research Institution of Da Lat province, was also introduced in the ceremony.
Addressing the ceremony, Doctor Nguyen Chon Trung, chairman of the Ho Chi Minh City Committee for Overseas Vietnamese Affairs said: "The club will attract many educated overseas Vietnamese to Vietnam, who become one of the major human resources and treasures of the country as well as the city."
On this occasion, Ho Chi Minh City Standing Vice Chairman Nguyen Thien Nhan has ordered the club to do researches and carry out practical solutions to establish an economic information centre and technology application centers.
Also, the city expects the club to help it modernize the designing and selling stages for local enterprises as well as to develop more projects in the mechanical and biological industries.