Tens of privately owned ancient houses in Hoi An Town in the central province of Quang Nam have become severely downgraded, but owners refuse to restore them despite offers of financial assistance from the State.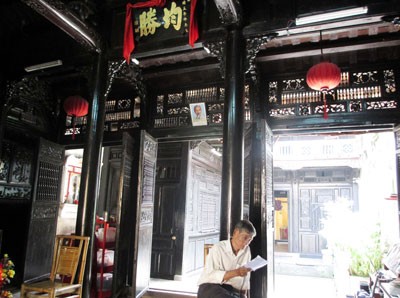 'Quan Thang' is one of the most beautiful ancient houses in Hoi An Town, built at the end of the 17th century (Photo: SGGP)
Quang Nam Province has a policy to assist owners of ancient houses with 55-75 percent of restoration expenses, but most owners find this remaining amount too high to accept the offer. 
Another reason for their refusal is that the house is owned by several family members, and there is always a conflict in agreement between them. Some want the house restored while others don't.
'Quan Thang' on 77 Tran Phu Street is one of the most beautiful ancient houses in Hoi An Town. Built at the end of the 17th century by a Chinese trader, it has exquisitely carved wooden walls.
The house is currently badly run down and termite infested. The beautiful wooden walls are rotting and the roof stands to collapse at any time. At the moment the living occupants of the house number ten, but it also receives a huge crowd of daily visitors.
The owner of the house is 95-year-old Thai Thi Sam. She is keen to repair and restore the house but does not have the funds.
The province has also offered non-interest loans to these house owners for a period of three years. However, so far only five houses have been restored under this plan.
Nguyen Chi Trung, director of the Hoi An Centre for Conservation of Cultural Heritage, said that they have proposed to the provincial People's Committee to establish a council to assess the status of all ancient downgraded houses.
If any house is assessed by the council to be in danger of collapse but residents refuse restoration, local authorities can go ahead and use State funds to do so, he said.
The State will recover the money back from owners once they commercialize the building or sell the property.
 
The above measure is a drastic attempt to restore the old world cultural heritage of Hoi An Town. Hence it should also be implemented in a right and lawful manner under the supervision of the above council, Trung said.