Palestinian ambassador to Vietnam Saadi Salama who has been in the country for 12 years, said that he had witnessed Vietnamese Tet (Lunar New Year) Festival in different phases of the country's history and been proud of attaching to Vietnam.

Palestinian ambassador to Vietnam Saadi Salama

In a pre-Tet interview with Sai Gon Giai Phong, Mr. Salama told that he had graced Vietnam's Tet holidays in three different phases including the 1980s, the 1900s  and years after 2010.

Vietnam faced a lot of post-war difficulties in the 1980s, however, the way local people celebrating Tet made him feel how Tet was special to the Vietnamese, who had suffered a lot of pains and losses for enjoying independent Tet holidays, he said.

The second phase was in 1988, 1989 and 1990 when Vietnam began the economic renovations, which have brought meaningful achievements since 2010.

The ambassador congratulated Vietnam on these achievements and believed everyone could recognize that Vietnam has been on its way to build the prosperous nation.

Victories and achievements Vietnam gained were completely due to patience of its people who have played an important role in the country's successes, Mr. Salama said.

"The hard-working and dynamic people always believe in their own potentials and strive for a better life. That's why I am proud of attaching to the country for the last 35 years," Mr. Salama affirmed.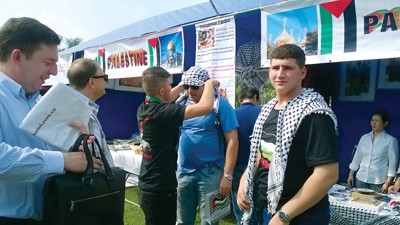 Palestinian young people introduce about their country at the annual Charity Bazaar 2014 at Unis International School in Hanoi on December 23, 2014