Rumors that trees known as Chinese Swamp Cypress can treat all diseases, including cancer, have led local residents in the Central Highlands province of Dac Lac rushing to chop down forests in search of the alleged cure-all.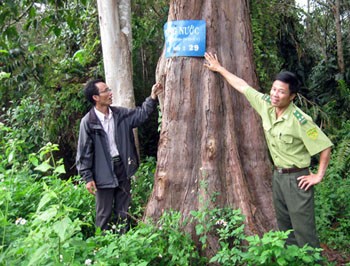 All Chinese Swamp Cypress trees in Dac Lac Province's Trap K'Sor forest are numbered. Illegal loggers seek out the endangered trees believing them to be a cure-all for diseases. (Photo: SGGP)
In addition to its rumored disease-curing properties, Chinese Swamp Cypress (Glyptostrobus pensilis) is also sought after for its sturdy wood and beautiful red-brown color.
The trees, however, are no longer reproducing and are listed in the Vietnam Red Book of endangered species.
Chinese Swamp Cypress are located in Ea Ral and Trap K'Sor forests of Ea H'Leo and Krong Nang Districts respectively. They are the two last known areas where the species grows in the world, with only around 280 trees left in total.
Nguyen Van Kiem, head of the Krong Nang District forest management station, said that the rumor started after a TV game show aired on June 5, 2009, which featured a question about a type of tree able to treat all diseases. The answer provided by the host was the Chinese Swamp Cypress.
A day after the program aired, hundreds of residents in Krong Nang District rushed to Trap K'Sor forest searching out the precious trees.
The forest management station was forced to ask police to intervene and the residents were ordered not to cut down the wood.
However, the station has since reported 16 cases where trees were found chopped down, totaling 43 cubic meters of wood.
Twelve more cases involving 15 people illegally exploiting and trading the precious wood at Ea Ral, have also been reported.
Dac Lac Province has now set up two stations to protect the trees at Trap K'Sor and Ea Ral, however, the work has met with many difficulties due to a lack of financial and human resources.
Trap K'Sor station has just three staff to protect 29 trees, which are scattered over 51.6 hectares of thick forest and swamps.
The Ea H'Leo District forest management station has asked the Dac Lac Province Forest Management Sub-Department to establish a Chinese Swamp Cypress biological area, but it has yet to be approved.