Pangasius prices remained high in mid-April in the Mekong Delta, hitting VND26,000 per kilogram, much higher than breeders' expectation. However farmers have still felt insecure because the price has traditionally fluctuated and been unpredictable for recent years.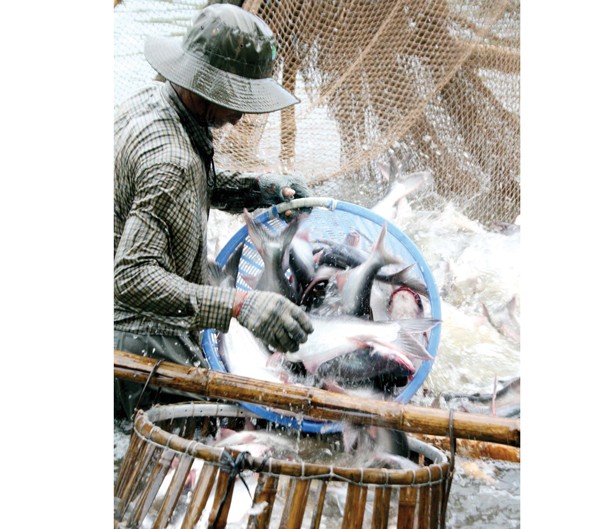 Farmers in the Mekong Delta harvest pangasius fish (Photo: SGGP)
The price hike for recent months has sent many famers to the tendency of broadening fish farming after abandoning fish ponds or filling up the ponds to convert into other crops due to volatile price caused heavy losses for a long time.
 
At present, many households want to resume pangasius farming but it has not been easy because of capital obstacles.
 
A province in the Mekong Delta reported that 60 fish farming households have been in debt of VND60 billion (US$2.65 million), of which 72 percent is unrecoverable.
 
A bank branch's representative said that a farmer got VND1.5 billion ($66,000) in loan for fish breeding but spent VND800 million on building a house. The bank had been forced to send staff to the customer's house and supervise fish selling in hope of recovering the debt.
The agricultural division of Nga Bay town in Hau Giang province said that was just a particular case. In fact, some farmers have got loans insufficient for fish breeding and purchased feed on the nod from shops. Worse in some cases, banks refused to continue loaning even customers had paid debts on schedule.
 
Hau Giang alone has 15 hectares of filled up fish ponds and 134 hectares abandoned, concentrating in Chau Thanh, Phung  Hiep districts and Nga Bay town.
 
Deputy director of the provincial Department of Agriculture and Rural Development Ngo Minh Long said that the province had favorable natural conditions for fish farming but met with difficulties in unstable consumption sources and information shortage.
 
Breeders have been unable to connect with businesses and the province has no establishments to provide fry fish. Feed expenditure accounts for 70 percent of breeding cost but bank loan access has been uneasy for farmers.
 
The above are also difficulties of pangasius breeders in other provinces of the Mekong Delta.
 
Secretary of the Hau Giang province Party Committee Tran Cong Chanh required district authorities to coordinate with the Agriculture and Rural Development Department to soon implement connectivity programs with businesses including Bien Dong (East Sea) to ensure consumption source for fish breeders.
 
The agency should quickly work with the company to provide local breeders with fry fish.
 
The connectivity between breeders and businesses is considered to be a sustainable development solution for pangasius farming in the province, he added.