In a rare and uncommon case in Hanoi on May 12, hundreds of parents queued up all night long in front of the Thuc Nghiem Primary School to buy application forms for their child to enter Grade 1, even though the school had announced it would begin selling forms only from 7am onwards.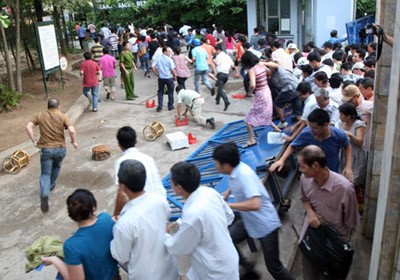 Parents jostled, pushed and shoved to buy application forms in Thuc Nghiem School on May 12 (Photo:SGGP)
A representative from the school said that they plan to sell 200 application forms, even though the school enrols only 150 pupils. Hence lots of anxious parents queued through the night and some as early as 3-4am outside the school premises to buy application forms.

Parents jostled, pushed and shoved, with no concern for others with some even being injured. Seeing this scenario, the school decided to cancel selling application forms on May 12 and moved it to the next day.

According to Nguyen Lan Anh from Cau Giay District, who has two children studying in the school, the quality of training at the Thuc Nghiem school is good and its tuition fee is not as high as compared to other schools. In addition, the school does not collect other overhead expenses during the school year.

Thus the school is popular with parents, as it meets the standards of good school education without exploiting basic needs of students.