The National Assembly session that begins on May 20 will focus on growth, social security, and some other major issues and consider 13 bills, the NA Standing Committee said on May 14.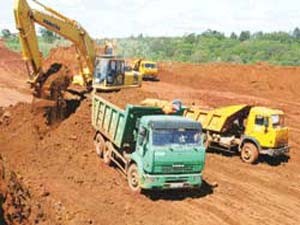 Work has begun on an aluminum plant in Nhan Co, Dak Nong Province, that will use bauxite mined in the Central Highlands, a project on which the NA has sought a government report at the upcoming session starting May 20. (Photo: Thanh Nien)

The House will consider adjusting the GDP growth target and discuss the budget deficit, issuance of additional Government bonds this year, and the Vietnam Oil and Gas Group's proposed investment in Venezuela.

It is also expected to adopt a resolution to amend the financial mechanism for education by 2012.
Unemployment and recent outcomes of poverty reduction programs will be also discussed at the session. 

The bills expected to be passed include those on management of public debt, criminal records, State compensation, urban planning, intellectual property rights, Vietnamese representative offices abroad, and amendments to the Penal Code.

Some amendments to the Housing Law, the Land Law, the Cinematography Law, the Cultural Heritage Law, the Law on Capital Construction Investment, and the Law on Cryptography will also be passed.

The government would make reports on such important issues as the source of the funds for its stimulus package, tax breaks under the Law on Personal Income Tax, and implementation of a policy to develop bauxite mining in the Central Highlands, said NA Office chairman Tran Dinh Dan.

The session would last until June 20, he said.