Today sky gazers in Viet Nam had the opportunity to watch a partial solar eclipse that could be seen in many Asian countries.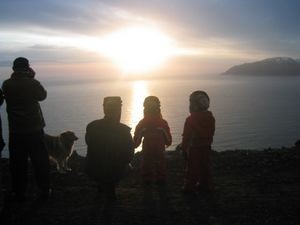 People watch partial solar eclipse in Iceland in 2002 (Photo: Wiki) 

The phenomenon was first visible in South Asia, and will be visible in the North later throughout the day, according to scientists from the Viet Nam Academy of Science and Technology.

The eclipse could be seen in Ho Chi Minh City at 8.20 am and in the central city of Hue at 8.30 am.

Inhabitants of the capital city Ha Noi had a chance to watch the eclipse at 8.37 am (local time).

Scientists warned people to wear special glasses, and not to look directly at the sun so as to avoid any eye damage from the bright sunlight.