The fourth meeting of the 11th Communist Party of Vietnam Central Committee (CPVCC) closed in Hanoi on Saturday, stressing mobilisation of all sources for infrastructure construction and all-out efforts to strengthen the Party.
Addressing the closing session, Party General Secretary Nguyen Phu Trong affirmed building the infrastructure system to serve national industrialisation and modernisation for 2011-2020 was an important task, which would help decide the successful implementation of the goal of rapid and sustainable development and improve efficiency and competitiveness of the economy.
The meeting issued a resolution on this task, emphasising the need to define stages of investment and the order of priority. Important projects will be selected for implementation, while creative mechanisms and policies are needed to mobilise all social resources, including foreign sources, for socio-economic infrastructure development. State budget capital will be reserved for essential and important projects, according to the resolution.
By 2020, the country should fundamentally solve the current obstacles and overloads and step by step form a synchronous socio-economic infrastructure system, ensuring a rapid, sustainable growth and increasing international integration.
The Committee pointed out development orientations for 10 main infrastructure areas with a focus on transport, energy, urban development, irrigation and climate change response.
On the Party-building work, the committee discussed and reached a high consensus on the need to issue the Central Committee's Resolution on this urgent task, focusing on promptly preventing and stamping out degradation in political ideology, ethics and life style of a number of Party members and cadres, especially leading and managerial officials at all levels.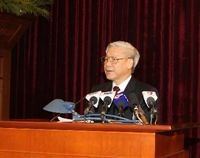 Party General Secretary Nguyen Phu Trong
The meeting emphasised the need to develop a contingent of leading officials and managers, particularly at the central level, and clearly define the scope of authority and individual responsibility of the heads of Party committees and administrative organisations, as well as the persons' relationship with the Party Committee, the management and the staff.
It was necessary to focus on guiding the fight against corruption, wastefulness, bureaucracy and this task must be combined with the state management responsibility of each ministry, department, locality, agency and unit, the committee said.
The heads of Party committee at all levels and ministries, departments, services, agencies and units must take responsibility for any corruption and wastefulness cases in their units, while Party and State inspection agencies should carry out timely investigations, responding better to complaints and denunciation, particularly those related to cases attracting public attention.
Party General Secretary Trong requested that members of the Party Central Committee, the Political Bureau and the Secretariat pioneer in performing, leading and instructing the implementation of the meeting's resolutions.