The fifth meeting of the Communist Party of Vietnam Central Committee (CPVCC) completed its agenda after nine days of sitting in Hanoi on May 15.

Speaking at the closing ceremony of the meeting, Party General Secretary Nguyen Phu Trong summed up important results of the event.

The conference agreed that the process of revising the 1992 Constitution, must be in line with the spirit of the resolution of the 11 th Party Central Committee's 2 nd meeting and under the Party's leadership.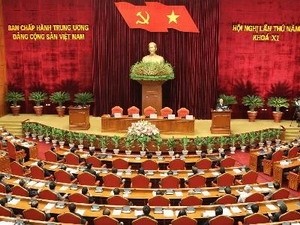 The closing ceremony of the Party Central Committee's fifth meeting (Photo: Tri Dung/VNA)
It is necessary to have a mechanism to ensure the involvement of experts, scientists, managers and collect people's opinions on the content of amendments to be submitted to the NA, the conference agreed.

The Party Central Committee also contributed important opinions to specific draft amendments, pointing out the two sides of each version for the Committee on Drafting Amendments to the 1992 Constitution to select.

Regarding the land law, the meeting reached consensus on the necessity to continue affirming that land belongs to the entire people with the State as the representative owner. Participants agreed on the need to have clearer stipulations on and better enforcement of the representative owner and the State's united management right. Land use right is also a kind of special goods and property but not ownership, they said.

The meeting laid stress on promptly amending and supplementing the Land Law and completing land regulations to remove existing shortcomings and weaknesses, in order to ensure economical and effective use of land, thus protecting the environment and ensuring immediate and long-term benefits.

The Party Central Committee also noted that since the issuance of the Resolution of the 10 th Party Central Committee's 3 rd meeting, the Party, State, the Fatherland Front and the entire political system have actively taken part in the fight against corruption and wastefulness. The fight has brought about positive changes in both awareness and activities, especially making the State apparatus activities, administrative procedures reform and public property management more transparent. However, the work has failed to meet the target of stopping and gradually pushing back corruption."

It is a must to pursue and speed up the fight; completing mechanisms, policies and laws on socio-economic management; enhancing organisational and personnel work, increasing the effectiveness and efficiency of detection and dealing with corruption and wastefulness, enhancing democracy, publicity and transparency, and bringing into play the supervisory role of the National Assembly, the People's Councils, the Fatherland Front, people and public opinions, said the Party Central Committee.

Regarding social policy, the Party Central Committee requested relevant agencies to thoroughly grasp the Party's viewpoints and instructions, which consider the constant improvement of the spiritual and material life of social policy beneficiaries as a regular and important task of all branches, sectors and the entire political system as well as society.

In terms of wages and social insurance, the Party Central Committee instructed that priority be given to the adjustment of salaries for public employees, cadres and armed forces, along with a review of the salary system for State-owned businesses, the rearrangement of public service delivery agencies and a wage system reform scheme for the 2012-2020 period and other related schemes.-