Party General Secretary Nguyen Phu Trong has underscored the significance of culture, saying that it is a spiritual foundation of the society, a measure of national progress and on par with politics, economics and environment.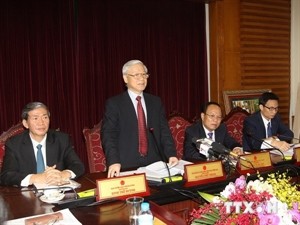 Party General Secretary Nguyen Phu Trong speaks at the event (Photo: VNA)
Human being and the environment in which they stay are what matters in any cultural development policy, the Party leader told senior officials of the Ministry of Culture, Sports and Tourism in Hanoi on October 18.
Minister of Culture, Sports and Tourism Hoang Tuan Anh briefed Nguyen Phu Trong about outstanding achievements made by the sector over the past four years.
The nation now records over 5,000 artists, 446 training centres of culture, sports and tourism, nearly 1,000 vocational schools that benefit as many as 80,000 students.
It is also home to 20 world heritages, 48 special national relic sites, 67 national treasures, 3,211 national relic sites, 69 national intangible cultural heritages and 145 museums holding close to 3 million objects and materials of different kinds, he said.
With nearly 2 million jobs generated in January-September, the tourism sector brought home VND 179 trillion (USD 8.5 billion), up 19 percent on-year.
Over 38 million arrivals were recorded during the period, with 6 million from overseas that marked an annual rise of more than 10 percent.
To leverage the past successes, the leader called for culture officers around the country to be given better training, in both virtues and professional skills, as well as all possible resources for the cause.
He took the occasion to ask the ministry to spread more images of Vietnam, its life and country to all over the world.
Participants suggested improving relevant regulations and laws while strengthening the State management in cultural affairs.