Party General Secretary Nong Duc Manh said Dak Nong Province should work out plans to develop bauxite mining for aluminum production, and prepare human resources for the mining industry and its related services.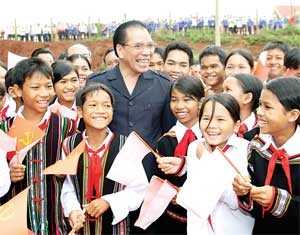 Party General Secretary Nong Duc Manh visits ethnic pupils in Dak Song District
The Party leader was visiting the Central Highlands province from September 11 to 13. He said Dak Nong is rich in bauxite reserves and needs to tap this advantage to create breakthroughs for the province's socio-economic development.
The Party leader also said Dak Nong authorities need to map out plans to protect the environment at the mining sites.
During the visit, the Party chief highlighted the strategic position of Dak Nong in the Central Highlands' development plan as well as in national socio-economic development, security and defense, and in international cooperation and integration.
He asked provincial officials to work to ensure fast and sustainable development for Dak Nong, which came into being in 2004 after Dak Lak Province was divided into two provinces: Dak Lak and Dak Nong.
In his visit to Truong Xuan Commune, Dak Song District, the Party leader said every Vietnamese needs to build solidarity for the goal of a powerful country with wealthy people and an equal, democratic, and civilized society.
He also came to see and talk to teachers and 125 ethnic pupils at a boarding school in the district.