Party General Secretary Nguyen Phu Trong expressed his desire that the Party Central Committee's Inspection Commission would function more effectively during preparations for the upcoming all-level Party Congresses.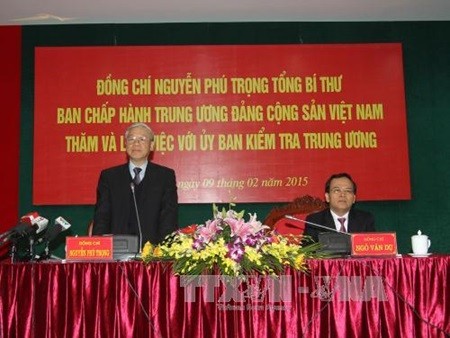 Party General Secretary Nguyen Phu Trong speaks at the working session. — VNA/VNS Photo Tri Dung
Holding a year-end working session with the commission in Ha Noi yesterday, he asked members to reform their working style and eradicate weaknesses and limitations.
He hailed the commission for its contributions to Party building and socio-economic development, saying that it performed well as a think-tank for the Politburo and the Secretariat and was building a disciplined, healthy and transparent Party.
The Resolution on Party building adopted by the 11th Party Central Committee Congress' fourth plenum had been initially successful, in part due to the commission, he said.
The commission has offered consultancy on establishing 32 inspection teams for 69 Party units and designing an annual inspection programme, in addition to handling a number of complaints and denunciations, bringing violations to light and returning billions of Vietnamese dong to the State budget.
It ensured that offenders were disciplined in accordance with Party regulations while improving supervision over Party organisations and members on several issues.
Concluding the session, the leader urged the sector to build on its past achievements and comprehensively fulfil tasks assigned by the Party and people.
The Party Central Committee has 23 members. In 2014, it announced that Viet Nam's former chief government inspector Tran Van Truyen abused his position to acquire huge real estate holdings in various provinces.