Viet Nam's achievements last year were partly owing to contributions from patriotic overseas Vietnamese, Party General Secretary Nong Duc Manh said while receiving representatives of overseas Vietnamese in Ha Noi on January 30.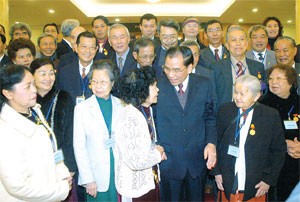 Party chief Nong Duc Manh (2nd, R in front row) talks with overseas Vietnamese on Jan 30
He warmly welcomed the overseas Vietnamese home for the upcoming Lunar New Year festival, and reiterated that overseas Vietnamese are an inseparable part of the Vietnamese community and an important factor helping promote the cooperation and friendship between Viet Nam and other countries.
The Party chief said he was pleased to see that the Vietnamese community abroad has worked hard to integrate into the host society while still maintaining the use of the mother tongue as well as cultural identity and national traditions, and making contributions to the motherland.
The overseas Vietnamese representatives expressed their heartfelt gratitude to the Party and State's care for the overseas Vietnamese community and were delighted with the changes in the country.
They made a number of recommendations to the Party and State's policies aiming at helping overseas Vietnamese in their life in their host countries and enabling them to make more practical contributions to the nation.