Party General Secretary Nguyen Phu Trong began his four-day official visit to Japan yesterday by reassuring Prime Minister Shinzo Abe that Viet Nam considers Japan an important, long-term partner and pointed to Viet Nam's firm foreign policy stance as a reflection of that.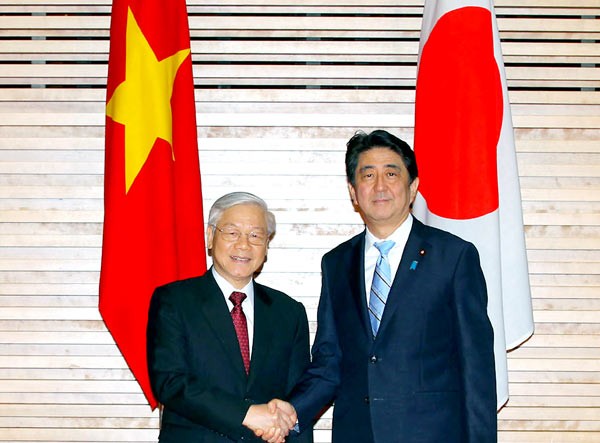 Party General Secretary Nguyen Phu Trong (left) meets with Prime Minister Shinzo Abe during his working visit to Japan. (Photo: VNA/VNS)
During their talks in Tokyo, both sides agreed on initiatives to foster the Viet Nam-Japan extensive strategic partnership, focusing on political trust, economic connectivity, and stronger mutual support in regional and global issues.
In a statement on a joint vision of the two countries, Viet Nam affirmed that Japan continues to be its leading and long-term partner while Japan said it treasures Vietnam's position in its foreign policy in Asia-Pacific.
The two countries asserted their determination to promote their overall relationship across the board in the interests of their people to contribute to peace, stability, cooperation and prosperity in the Asia-Pacific region and the world.
Speaking highly of Japan's support to Viet Nam during its reform period over the past two decades, the Party chief asked Japan to continue to provide official development assistance (ODA) to Viet Nam.
Viet Nam wanted to be given special priority so that it could realise a high-quality infrastructure, business climate and technological advancement of Japan's caliber. He said the country hoped that Japan would funnel more capital into Vietnamese farming, mechanical engineering and development of large-scale industrial parks he said.
He asked for specific help in improving the country's agricultural value chain, which would make it easier for its produce, fish products and wood furniture to navigate the Japanese market. He also stressed a desire to see Japan receive more Vietnamese nurses and trainees.
Responding positively to the guest's proposals, Abe confirmed that Japan would continue to support Viet Nam's sustainable economic development, including prioritising Viet Nam in its ODA decisions.
He announced that Japan would invest roughly JPY100 billion (US$834.3 million) in Viet Nam's north-south highway and seaports.
As for infrastructure, the host expressed Japan's desire to work with Viet Nam to build the Long Thanh international airport, Ninh Thuan II nuclear power plant, and specialised industrial parks in Hai Phong and Ba Ria-Vung Tau.
They agreed to facilitate travel for the two countries' citizens, with Abe announcing Japan's decision to extend visas for Vietnamese businesspeople up to 10 years.
In regards to defence exchanges, Abe voiced his willingness to work with Viet Nam to improve its maritime law enforcement capacity. The Japanese government is prepared to provide second-hand vessels to Vietnam.
Viet Nam and Japan will also intensify coordination in handling traditional and non-traditional security threats.
Turning to regional and global issues, Abe briefed his guest about Japan's position on several historical issues and policies towards regional peace and security.
Trong restated Viet Nam's commitment to pursuing peaceful development and backing Japan's contributions to peace, security, cooperation, and development in the region.
The leaders promised to liaise closely at ASEAN and East Asia summits, as well as in negotiations for and execution of regional free trade agreements, including the Trans-Pacific Partnership and the Regional Comprehensive Economic Partnership.
Abe welcomed Viet Nam's tentative bid for membership of the International Whaling Commission as well as official membership of the Western and Central Pacific Fisheries Commission.
He also committed to supporting Viet Nam in hosting the 2017 Asia-Pacific Economic Co-operation forum.
Expressing concern over recent complicated developments in the East Sea, they underscored the need to abide by international law, especially the 1982 United Nations Convention on the Law of the Sea and the Declaration on the Conduct of Parties in the East Sea.
Party General Secretary Nguyen Phu Trong and Japanese Prime Minister Shinzo Abe witnessed the signing of six cooperation agreements following their talks the same day.
The documents include a medium and long-term vision on Viet Nam – Japan agricultural cooperation, which would open Viet Nam's market to Japanese apples and Japan's market to Vietnamese mangoes starting tomorrow.
They also signed a diplomatic note on providing more than JPY28.6 billion ($238 million) worth of official development assistance for Viet Nam, and another one providing JPY200 billion ($1.6 billion) of non-refundable aid for Viet Nam's maritime safety in the 2015 fiscal year.
Other agreements included a memorandum of understanding (MoU) on the United Nations peacekeeping mission between the two Defence Ministries, a MoU on establishing a partnership to combat trans-national crime and develop joint cooperation between the Viet Nam Coast Guard and the Japan Coast Guard, and a MoU on workforce development in mechanical engineering between the Vietnamese Ministry of Education and Training and the Mitsubishi Heavy Industries.
Vietjet Air and Tokyo-Mitsubishi Bank of Japan also reached a MoU on financing for the purchase of three Airbus planes.