Party General Secretary Nguyen Phu Trong hosted Chinese Minister of Public Security Guo Shengkun in Hanoi on April 16, saying that both sides should enrich the contents of cooperation, especially in training the law enforcement force.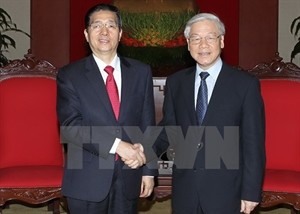 At the reception (Photo: VNA)
The host suggested facilitating all-level visits and sharing of information and experience in combating trans-national and cyber crimes.
He asked Guo to convey his thanks to General Secretary of the Communist Party of China and State President Xi Jinping and other leaders for their warm reception during his recent China visit.
Guo, who is also a State Councilor, briefed his host about the outcomes of coordination between the two public security ministries as well as their joint working plans.
He affirmed that common perceptions reached by the two Party leaders during Party General Secretary Nguyen Phu Trong's visit will be orientations for the two ministries to conduct well-rounded collaboration and maintain security and order in each country.-