Vietnamese Party General Secretary Nong Duc Manh on Dec. 18 visited Supreme Patriarchs Tep Vong and Bukri, leaders of the Mohanikai and Thommayutnikai Buddhist sects, in Cambodia.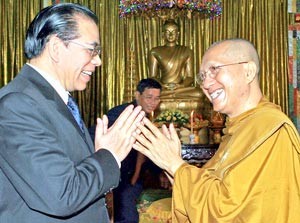 Vietnamese Party General Secretary Nong Duc Manh (L) visits Patriarch Bukri in Phnom Penh on Dec. 18 (Photo: Vietnam News Agency)
The Party leader said the friendship and cooperation between the people of Vietnam and Cambodia, as well as between their Buddhists, are considered valuable assets and a factor that forms strength for both nations.
Both Patriarchs Tep Vong and Bukri thanked Vietnam's Party, government and volunteer soldiers for their help to the Cambodian people's struggles to eradicate the genocide risks and to recover their nation and religion.
The same day, General Secretary Manh also called at the Vietnam Embassy in the capital city of Phnom Penh.
The general secretary asked overseas Vietnamese to abide by Cambodia's laws and join hands with the local people to foster the country's national construction and development.
He also urged the Vietnamese community to preserve Vietnam's cultural identities and contribute further to the solidarity and friendship between the two countries.
General Secretary Manh and his high-ranking delegation also visited the southern province of Preah Sihanouk.