Party General Secretary Nguyen Phu Trong and National Assembly deputies in Hanoi on Dec. 1 met with voters in Ba Dinh, Hoan Kiem and Tay Ho districts to report on results of the second session of the 13 th NA.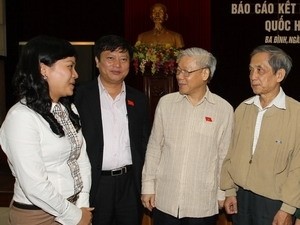 Party leader Nguyen Phu Trong (2, R) meets with voters in Ba Dinh and Hoan Kiem districts (Source: VNA)
At the meeting, voters recommended the NA strengthen supervision of the implementation of socio-economic development projects and programmes.
They urged the NA to clarify results of the issuance and use of bonds for building schools in remote areas, as well as the efficiency of investment for State-owned groups and corporations.
They emphasised the need to closely oversee the protection of forest and maritime resources and agricultural land, practice thrift, ensure corruption and waste prevention, and respond to the campaign, "Studying and Following the Moral Example of President Ho Chi Minh."
The voters suggested caution in making adjustments on the price of essential goods as they relate to social security and the lives of the people.
They also mentioned many important issues such as the increasing gap between the rich and the poor, the settlement of complaints, the minimisation of traffic jams and accidents, the strengthening of urban management and protection of the environment.
Acknowledging voters' wholehearted recommendations, General Secretary Trong stressed that together with maintaining economic growth, more attention should be paid to thoroughly addressing social issues, implementing social security policies and resulting social equity, and ensuring sustainable and long-term national development.
Other issues such as labour, employment, salary, infrastructure, environmental protection, security and order, and narrowing the rich-poor gap should also be addressed, he said.
The Party leader agreed that it is necessary to drastically and effectively implement anti-corruption work and improve law enforcement guidance in order to ensure that new laws soon come into practice./.