Party General Secretary Nong Duc Manh and Head of Central Committee External Affairs Commission Nguyen Van Son, member of the Party Central Committee,  jointly received National Secretary of French Communist Party Marie George Buffet at the Central Committee's head office on September 1.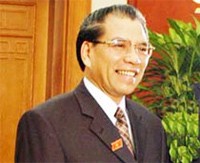 Party General Secretary Nong Duc Manh
Ms. Marie George Buffet expressed her pleasure to revisit Viet Nam in the heartening atmosphere of the success of the 10th National Party Congress and on the occasion of the 61st anniversary of Viet Nam's National day (September 2).
She was impressed with Viet Nam's development and highly appreciated the prestige and role of Viet Nam and the Communist Party of Vietnam (CPV) in the international arena, saying that Vietnamese revolutionary's experience is internationally valuable.
She warmly congratulated the political stability, socio-economic development, people's improved living conditions and historically significant achievements that the CPV and Vietnamese people have obtained in the renovation process.
During the visit, the French Communist Party's senior delegation paid a visit to the Ho Chi Minh Mausoleum, Ha Noi and Quang Nam's cultural places and enterprises and held talks with leaders of the Central Committee External Affairs Commission and concerned agencies.