On May 5 Party General Secretary Nong Duc Manh visited General Vo Nguyen Giap, the legendary Vietnamese commander of the Dien Bien Phu battlefield, to celebrate the 55th anniversary of the nation's victory over the French.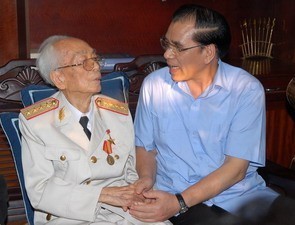 General Vo Nguyen Giap is visited by Party leader Nong Duc Manh in Hanoi on May 5
On behalf of the Party, the State's leaders and the Vietnamese people, Party chief Manh thanked General Giap for his immense contributions and services to the nation's revolutionary cause and wished him good health so he can continue to contribute to the country's revolutionary cause and national development.
He confirmed that the entire Party, people and army will work together to weather all current difficulties and make the country more prosperous and ensure a "strong people in a rich country with a just, democratic and civilized society".
General Giap emphasized that the war of national resistance against the French colonists and particularly the historic Dien Bien Phu battlefield campaign had received overwhelming support from the Party, the late President Ho Chi Minh, fallen combatants, and people from the ethnic minorities.
General Vo Nguyen Giap is one of the most prominent Vietnamese military commanders ever and the first Commander-in-Chief of the Vietnamese People's Army.