The Government and Vietnamese people will always be grateful for all the sacrifices made by Vietnamese heroic martyrs and veterans who have rendered great services to the nation, said Party General Secretary Nong Duc Manh at yesterday's meeting with the veterans and the martyrs' families.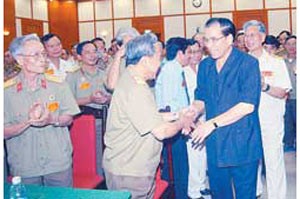 Party General Secretary Nong Duc Manh shakes hand with veterans

In the meeting, Mr. Dang Quan Thuy, President of the Viet Nam War Veterans Association, reported all the association's achievements during the past years as well as the result from the movement named "Viet Nam War Veterans Corporate to Improve Living Standards and Fight against Poverty".

Party General Secretary Manh also stressed that the veterans' work has also closely followed the Government's policy in taking good care of those whose lives were devoted to the nation defense and construction and families who sacrificed for the revolution.

According to Government policy, all the veterans and their families deserve a stable life with average income equivalent to the middle class. Besides all the advantages given to them from the Government, their mental strength is what most needed in the process of integrating into modern life.

During the past year, the movement to help veterans' and martyrs' families to fight poverty has caught the public's attention and received support from people from all walks of life. Billions of VND have been donated to help build thousands of houses of gratitude, set up saving books for 60,000 veterans and martyrs' families. The Government has also guaranteed that 100% of heroic mothers will receive good care for the rest of their lives.