Party General Secretary Nguyen Phu Trong called for stronger co-operation in economics, tourism, culture and education at a meeting yesterday with the Mayor of Busan, Suh Gyung-Soo.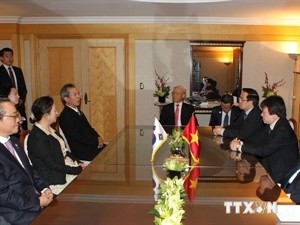 Party General Secretary Nguyen Phu Trong meets with members of the RoK Association of People Loving Vietnam in Busan (Photo: VNA)
Busan is the second largest economic hub in south-eastern South Korea.
Trong said Viet Nam, and Ho Chi Minh City in particular, were ready to welcome Korean investors from Busan.
Next year marks the 20th anniversary of the friendship between Ho Chi Minh City and Busan.
Suh said Trong's visit was a significant contribution to the Viet Nam -South Korean co-operative partnership established in 2009.
In Seoul, Trong met executives of several Korean businesses operating in Viet Nam. He said he hoped South Korean businesses expanded their operations in Viet Nam and offered to support them.
Some of the executives were from the CJ Group, which has numerous businesses in transport, agriculture, culture and communications. Others are employed by Charmvit, which focuses on aviation, energy and construction, and the Hyosung industrial group.
On the same day, Party Secretary Trong made a visit to the Viet Nam's Honorary Consulate in Busan.
Speaking to Trong, Viet Nam's Honorary Consul General Park Soo-kwan said he would do his utmost to boost the relationship between Viet Nam and South Korea. Trong said Viet Nam and South Korea had great potential for further co-operation, and he hoped that the Honorary Consul General would do more to promote the two sides' relationship.
Trong also met with the Association of Korean People Loving Viet Nam(VESAMO) where he met with the association's chairman, Park Kwang Joo.
Trong said that in the 12 years since it was established, the association had contributed considerably to the relationship between the two countries.
Minister of Labour, Invalids and Social Welfares Pham Thi Hai Chuyen held a meeting with her counterpart Lee Ki Kwon to discuss sending Vietnamese workers to South Korea. Chuyen asked South Korea to continue its co-operation with Viet Nam to stop South Korean firms from illegally hiring foreign workers.
The two ministers also agreed to continue working closely to realise their signed agreements, especially on labour safety and hygiene, vocational training, sustainable employment, and exchanging labour market information.
Minister Chuyen also visited Vietnamese workers at Pyeongsan Rubber and Technology Company.
Meanwhile, Chairman of the Ho Chi Minh City People's Committee Le Hoang Quan had a meeting with Busan Governor Suh Byung Soo to talk about the preparations for the celebration of the 20th anniversary of the two cities' partnership.
Currently, up to 80,000 RoK people live in Ho Chi Minh City, while 30,000 Vietnamese nationals reside in Busan and the surrounding areas.
The two cities cooperate in a number of areas, including culture, research, education, and humanitarian assistance.