Party General Secretary Nguyen Phu Trong has thanked the United Nations (UN) and its Secretary General for their valuable support to Vietnam over the past time, especially in dealing with the war consequences.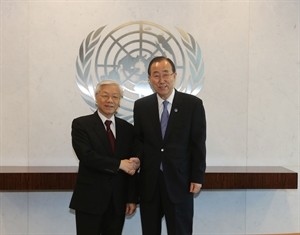 Party General Secretary Nguyen Phu Trong and Secretary General Ban Ki-moon (Photo: VNA)
Meeting Secretary General Ban Ki-moon in the UN headquarters in New York on July 10 (local time), the Party chief said he is delighted to meet the host at a significant time that coincides with the 70th anniversary of the UN establishment and development.
The UN General Secretary highly valued the Vietnam-UN partnership and Vietnam's effective contributions to fulfilling the UN millennial development goals.
Ban Ki-moon praised Vietnam for its vanguard role in fulfilling the UN development goals and joining peacekeeping activities, reflecting its responsibility for common concerns of the world.
He wished that Vietnam would continue its positive part in performing the UN priority tasks this year, including initiatives and other programmes in the coming time.
For his part, Party General Secretary Nguyen Phu Trong said Vietnam is a responsible member of the international community, continually joining efforts with the UN for a world of peace and sustainable development, adding that Vietnam appreciates the UN peacekeeping mission and will continue engaging in the endeavor in the coming time.
Turning attention to regional and global issues, including the East Sea issue, Ban Ki-moon hoped that parties concerned will settle disputes peacefully in accordance with the UN Charter and international law, including the 1982 UN Convention on the Law of the Sea (UNCLOS).
The UN chief also pledged to urge relevant parties to talk about this issue.
The party leader, in return, called upon the UN and the Secretary General to contribute to peace, stability, maritime and aviation security and safety.
He affirmed Vietnam's firm stance on settling disputes by peaceful means in line with international law, including the 1982 UNCLOS.
On the same day, the Party leader and Vietnamese high-ranking delegation visited a photo exhibition titled "Vietnam-United Nations: Partnership for a sustainable future" at the United Nations headquarters in New York City.
The event, held by the Vietnamese delegation at the UN in collaboration with UN organisations in Vietnam, aims to celebrate cooperation between Vietnam and the UN over the past 40 years, from the early days of humanitarian aid, reconstruction and reform to millennium development goals and the current sustainable development goals.