Party General Secretary Nong Duc Manh visited and congratulated General Vo Nguyen Giap on August 23 in Hanoi on the occasion of the General's one hundredth birthday (August 25).
Party General Secretary Manh, on behalf of leaders of the Party, State, Army and people, thanked and spoke highly of General Giap's significant contributions to the revolutionary cause of the Party and the nation.
"General Giap is forever a bright example, an excellent disciple of President Ho Chi Minh, the eldest brother of the armed forces, a eminent strategist and commander-in-chief admired by international friends and a source of great pride for the Vietnamese Party, State and people," Manh stressed.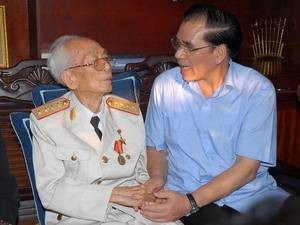 Party General Secretary Nong Duc Manh (R) visits and congratulates General Vo Nguyen Giap last August in Hanoi
The General Secretary wished General Giap good health and longevity and said he hoped the general would make more contributions to the Party and the country.
Following elder generations, the Party, State and people of Vietnam are determined to seize opportunities and overcome challenges to speed up national industrialisation and modernisation, to firmly build and and defend the socialist nation, Manh affirmed.
General Vo Nguyen Giap thanked the leaders of the Party and the State for their due attention and Party General Secretary Manh for his best wishes.