The 11th Congress of the Communist Party of Vietnam will vote today to choose 175 members and alternate 25 members for the new Party Central Executive Committee, which will hold ballots for the Party General Secretary and the Politburo at a closed-door meeting tomorrow.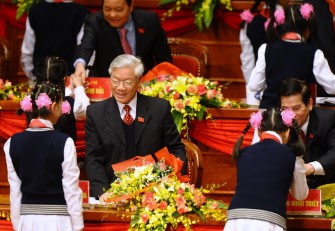 Young pioneer girls and boys salute politiburo member and National Assembly Chairman Nguyen Phu Trong (C), politburo member and President Nguyen Minh Triet (R) and others leaders on podium during the opening of the 11th national congress of the Vietnam Communist Party (VCP) in Hanoi on January 12, 2011.
Delegates yesterday discussed standards, number of the committee members and researched curriculum vitae of those people who were nominated to the committee and decided to run for the post of the committee by themselves.
Most of delegates said that thanks to the reform in nominating and electing system in the congress the number of nominees increased, creating good conditions to vote for the committee members.
According to the new regulation on organizational structure of the committee, female members will make up 10%, under 50 year-old members will reach 20%; number of scientists will also increase in the committee.
That is the reason why in yesterday discussion on candidates for the new committee many delegates were recommended behind the list introduced by the previous committee.
Up to now there is only one member to offer himself as a candidate for the committee.
In previous discussions on the list of the new committee members, many delegates required not to nominate unusual rich members of the party to the new committee.
On the sidelines of the Congress on Jan. 16, 10 th Party Central Committee member, Tran Van Truyen, who is General Inspector, said the personnel work is of decisive significance to the implementation of Party congress' documents so the qualifications of the Party Central Committee members must be given top priority.
According to the General Inspector, the delegates spent a lot of time to discuss the qualifications of members and structure of the 11 th Party Central Committee aiming to make it meet the requirement as the leading force which will be responsible for organising the implementation of the 11 th National Party Congress Resolution.
"Those who will stand in the Party Central Committee must be qualified in terms of virtue and capacity, including intellectual capacity and acting capacity," the General Inspector said, noting that the current circumstance when deeds are required to match words, the capacity to put Party resolutions into life become a big measurement for the candidates to the 11 th Party Central Committee.