Social development programs have brought about important changes to mountainous regions, as they not only help local people escape starvation and poverty but also enhance their living and educational standards, said Truong Tan Sang, a Politburo member and Standing Secretary of the Communist Party of Vietnam Central Committee in Hanoi Wednesday.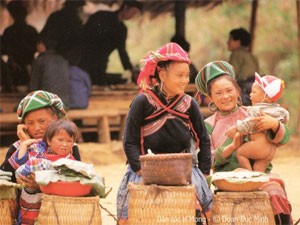 More ethnic minority people will be employed thanks to vocational training programs and those to help restore and develop traditional trades (Photo: Dong Duc Minh)
The meeting, held as part of the Party's national conference, was organized to assess the results of the five-year implementation of the Party's 7th plenum (9th tenure)'s resolutions on ethnic affairs.

Addressing the conference, Mr Sang emphasized the strategic roles of ethnic issues and policies and asserted that they always hold an important position on the Party's agendas.

In assessment of the results of five years implementing the Party's resolutions, Mr. Sang said that the infrastructure in mountainous regions have now developed rapidly, meeting the demand for regional production development.

More and more ethnic people had received loans as starting funds for small businesses under social development programs and become good businesspeople and manufacturers, he added.

He, however, pointed out that the ratio of poor households in mountainous regions is still higher than that of the whole country. For further development in the coming future, said Mr Sang, it is necessary to invest more in upgrading essential infrastructure in the region, particularly in 61 of the poorest communes in the country.

Further policies will be drafted to assist ethnic people in developing household economic activities, including animal breeding and planting forests, Mr. Sang said.

Ethnic minority people can access vocational training so that they can get jobs in plantations, farms and factories. Programs to restore and develop traditional trades in the region will also be launched at the same time to create more jobs for people in the region, he said.

The Party will continually focus on programs to develop education, training, healthcare and promote cultural and social activities in mountainous areas, as well as regions where ethnic minorities live and at the same time strengthen political and security systems to ensure social order and safety for their daily living,  Mr. Sang added.

Ms. Ha Thi Khiet, secretary of the committee and head of the committee's Mass Mobilization Commission, reported that all the poorest communes in mountainous regions now have kindergartens, primary schools and semi-public schools. The ratio of school age children is between 90 and 95 percent.

Cultural houses and post offices have been built in almost every commune inhabited by ethnic people and nearly 90 percent of underdeveloped communes have been hooked up with the national telephone network.

The ratio of ethnic people working for the government offices at all levels has also improved.