General Secretary of the Communist Party of Viet Nam Central Committee Nong Duc Manh and his entourage arrived in Pyongyang , the Democratic People's Republic of Korea (DPRK), at 2 pm (local time) on October 16, beginning his official friendly visit to the country.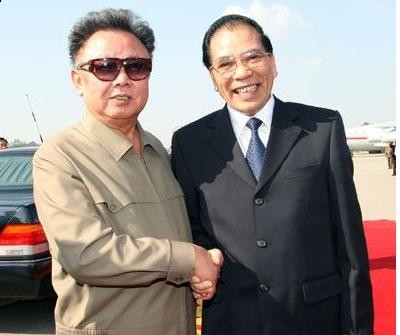 DPRK leader Kim Jong-Il shakes hands with Vietnamese Party Chief Nong Duc manh at the International Airport in Pyongyang, Oc. 16, 2007.
The visit is made at the invitation of Kim Jong Il, General Secretary of the Workers' Party Central Committee and Chairman of the National Defence Commission of the DPRK.
A red carpet welcome ceremony was held at the Pyongyang International Airport for the Vietnamese party general secretary who was given a warm hug by Kim Jong Il immediately after disembarking from the plane.
Vietnamese Party leader Nong Duc Manh and General Secretary Kim Jong Il then reviewed the guard of honour. The band played the two countries' national anthems before a 21 gun salute was fired off in honour of the guest.
Thousands of Korean people in traditional costumes stood at the airport and on both sides of the road leading to the Government guest house waving flowers and the two countries' flags and shouting slogans to salute Party General Secretary Manh and other Vietnamese guests.
Later, the Vietnamese Party General Secretary and his entourage paid tribute to the late President Kim Il-sung at Kumsusan Palace where he laid a wreath at the statue of the late president and visited a room showcasing his keep sakes