Party General Secretary Nong Duc Manh received and met with the Cambodian parliament and government leaders on Dec. 17 during his on-going visit to the Southeast Asian country.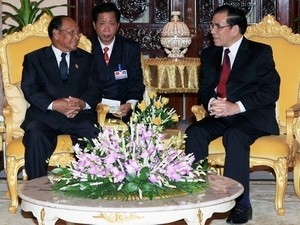 Vietnamese Party General Secretary Nong Duc Manh ( R ) meets Cambodian National Assembly Chairman Heng Samrin in Phnom Penh on December 17 (Photo: VNA)
Meeting with National Assembly Chairman Heng Samrin, Senate President Chea Sim and Prime Minister Hun Sen, the Vietnamese Party leader affirmed Vietnam's consistent policy of attaching and fostering traditional solidarity, friendship and comprehensive cooperation with Cambodia .
This is an invaluable asset of both nations, and one of the elements to create power for both countries in their national building and development, he added.
Cambodian leaders of Senate, National Assembly and Government congratulated Vietnam on the achievements the country has made during the renewal process and national development.
They also highly valued Vietnam's role and position in the region and the world, especially Vietnam's assumption of ASEAN presidency in 2010.
The leaders affirmed their determination of making efforts to tighten Vietnam-Cambodia traditional friendship, solidarity and multifaceted cooperation to create a peaceful environment, stability and sustainable development for both countries.
The Vietnamese and Cambodian leaders informed each other about the economic and socio-economic situation of their respective country and exchanged views on international matters of common concern.
They also expressed their wish to expand and promote exchanges between legislative and executive bodies and localities, especially the bordering ones to share experiences on state management, social management, economic development and international integration.
On the occasion, Party General Secretary Manh and Prime Minster Hun Sen witnessed the signing of cooperative agreements between the two governments in power, industry, mineral resources and waterway transportation.