Party General Secretary and National Assembly Chairman Nguyen Phu Trong yesterday presented a warm welcome to Cambodian Deputy Prime Minister Mem Sam An during her visit to Viet Nam.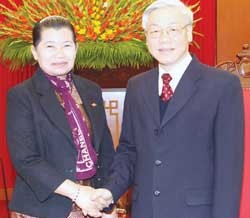 Party General Secretary Nguyen Phu Trong (right) meets Cambodian Deputy Prime Minister Men Sam An in Ha Noi
Mem Sam An, who is also President of the Cambodia-Viet Nam Friendship Parliamentarian Group, expressed her gratitude to Vietnamese leaders and citizens for their warm welcome. She congratulated the success of the 11th National Party Congress and Trong's new position as the Party General Secretary.
She reported on Cambodia's major political and socio-economic issues, and its important achievements in the development process. Men Sam An thanked Viet Nam for its support in Cambodia's wars of national salvation and its current cause for national development.
Trong said he appreciated the effective relationship that the parliamentarian groups of the two countries shared, and congratulated Cambodia for its great achievement during the country's development process. He also affirmed that Viet Nam always gave priorities to collaboration with Cambodia in all aspects for the benefits of the two nations, and for peace, stability and development in the region and in the world.