General Secretary of the Communist Party of Vietnam Nguyen Phu Trong yesterday afternoon received a delegation of overseas Vietnamese, who came home to celebrate Tet holidays and attend the Homeland Spring 2016 by the State Commission for Overseas Vietnamese Affairs.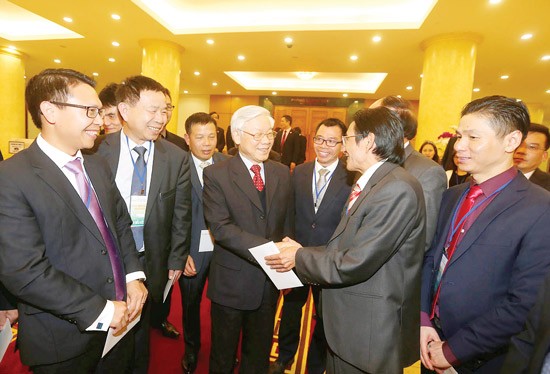 General Secretary Nguyen Phu Trong visits overseas Vietnamese who have returned home for Tet celebration

On behalf of the Party and State, he warmly welcomed their return for Tet and wished the entire community of overseas Vietnamese a happy new year.

Mr. Trong appreciated the community's positive contributions to the country's development and protection cause. They have given many constructive opinions for the 12th congress.

The General Secretary affirmed that the Party and State always care about and appreciate the overseas Vietnamese community.

He hoped that they will intensify solidarity, uphold and promote the national traditions and cultural identities, advertise images of the land and people of Vietnam and continue to be a bridge of friendship and cooperation between Vietnam and countries where they live.

Informing them of the 12th congress' results, Mr. Trong said the Party and State will continue conducting comprehensive and synchronous reform as well as industrialization and modernization and international integration, protecting national interests, fortifying the national unity bloc and enhancing the image and position of Vietnam in the world.

Being moved by the General Secretary's welcome and care to them, overseas Vietnamese affirmed that they will make more efforts to promote the national unity, preserve and uphold the national traditions and cultural characters.

They also expressed gladness to the country's development, congratulated the success of the 12th congress and reported to the General Secretary about their conditions, progresses and difficulties.
They hoped that the Party and the State will continue paying attention to assisting and creating them advantageous conditions to do business in their homeland and further contribute to the country's development.

In related news, the State Commission for Overseas Vietnamese Affairs today hosts the Homeland Spring program 2016 for overseas Vietnamese returning home for Tet celebration.

The annual program for the community of over 4.5 million overseas Vietnamese attracts a crowd of attendees. The President has attended the program and given New Year's greetings to the overseas Vietnamese for the last years.

This year program will comprise diversified activities such as spring festival, visits to trade villages in Hanoi, incense offering ceremony and carp release.

The President's Tet greetings to overseas Vietnamese and a special music program will be broadcast live on VTV1 and VTV4 tonight.