Party General Secretary and National Assembly Chairman Nguyen Phu Trong on Jan. 28 offered New Year wishes to people in Kim Binh commune in the northern province of Tuyen Quang.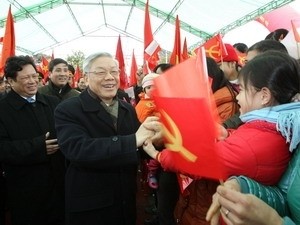 Party General Secretary and National Assembly Chairman Nguyen Phu Trong (C) is welcomed in Tuyen Quang Province on Jan. 28, 2011 (Photo: Vietnam News Agency)
The historic location, known for the courage and loyalty of its people, was where President Ho Chi Minh lived and successfully led the August Revolution in 1945 against the French colonialists
Kim Binh was also the place where the second Party Congress was held in 1951.
"After the war, Tuyen Quang people have also made big contributions to the country's economic development," Trong said.
The province's economic growth was 13.5 percent from 2006-2010 while its per capita GDP last year was 700 USD.
Trong also handed presents to veteran revolutionaries in the province.
Also on the same day, Politburo member Truong Tan Sang visited the northern province of Cao Bang where President Ho Chi Minh returned to the country 70 years ago.
He shared his sympathies with local people who were suffering from the recent extreme cold and suggested the province should focus more on cultivating sugarcane, corn, buffaloes and pigs.
Sang also handed out gifts to veterans who had contributed to the country's revolution.
Politburo member and Secretary of the Hanoi Party Committee Pham Quang Nghi on Jan. 28 visited Ha Nam province, some 60 km south of Hanoi to inspect preparations for the New Year.
Speaking at a meeting with provincial leaders and people, Nghi expressed his appreciation of the changes in the province in 2010, particularly its rapid socio-economic development.
Through the application of advanced technology over the past decade, farmers in the province have become better off. As a result, the gap between the rich and the poor has narrowed and per capita income in the province stands at about 17 million VND (900 USD).
"Ha Nam should take advantage of its position as Hanoi's southern gateway to develop its industry and human resources in line with the Party and Government's policies and guidelines," said Nghi.
He asked the province to pay attention to environmental protection.
Politburo member and Chairman of the Party Central Committee's Inspection Commission Ngo Van Du visited Vinh Phuc province, some 60 km northwest of Hanoi.
Vinh Phuc is one of a few leading provinces in Vietnam to have initiated measures to boost the country's socio-economic development.
In 2010, Vinh Phuc was one of few provinces in the country to attain a total tax revenue of 15.3 trillion VND (760 million USD).
During the visit, Du presented gifts to families of social beneficiaries and heroic mothers in Vinh Yen city and Yen Lac district.
The same day, Party Central Committee Secretary Truong Hoa Binh, went to the Central Highlands province of Lam Dong.
He wished the province leaders and people a successful 2011.
Last year was a year of many successes for Lam Dong province. The province scored a GDP growth rate of 13.5 percent with an average per capita income of 19.3 million VND (nearly 1,000 USD) and a total tax revenue of 3,250 billion VND (160 million USD).
Binh commended the province's decision to provide nearly 15 billion VND (750,000 USD) to help poor households and people who have rendered great services to the country to enjoy Tet.
Deputy Prime Minister Hoang Trung Hai visited the central province of Phu Yen; Vice Chairman of the National Assembly Nguyen Duc Kien, the northern province of Hai Duong, some 60 km southeast of Hanoi; and Vice Chairman of the National Assembly Huynh Ngoc Son, the southernmost province of Ca Mau.
During their visits, the leaders inquired into preparations for Tet among local people and presented gifts to needy families and people who had rendered services to the nation, including heroic mothers.
Source: Vietnam News Agency