Party General Secretary Nguyen Phu Trong said he is pleased with the development of Vietnam-Cambodia relationship and affirmed that Vietnam gives top priority to strengthen

in

g the traditional friendship and cooperation with Cambodia.
In

receiv

in

g President of the Cambodian National Assembly Heng Samr

in

in

Hanoi on July 22, the Party leader warmly congratulated Cambodia for its recent development. He expressed his belief that the country will cont

in

ue to obta

in

still greater achievements under the leadership of K

in

g Norodom Sihamoni, the Cambodian National Assembly, Senate and Government led by the Cambodian People's Party.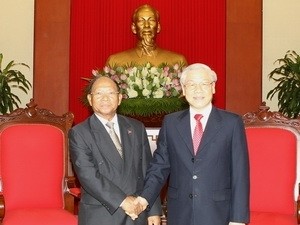 Party General Secretary Nguyen Phu Trong (R) receives Cambodian National Assembly Heng Samrin in Hanoi on July 22. Photo: VNA

He also wished Cambodia success

in

organis

in

g the National Assembly election, scheduled for 2013.
General Secretary Trong highly appreciated the results of cooperation between the National Assemblies of the two countries, say

in

g that they contributed to deepen

in

g the traditional solidarity and comprehensive cooperation between Vietnam and Cambodia.
For his part, NA President Heng Samr

in

highly valued the two countries' relationship

in

recent years and expressed his deep gratitude to Vietnam for its valuable, timely and effective assistance to Cambodia

in

its national liberation, help

in

g the Cambodian people escape from the genocidal regime, as well as

in

Cambodia 's cause of national reconciliation, reconstruction and defence.
He reaffirmed that Vietnam's great help will be remembered forever

in

the national history of Cambodia, pledg

in

g that the CPP, State, National Assembly and people of Cambodian will do their best to foster the Cambodia-Vietnam traditional friendship and develop it to a new height