Vietnam regards the development of its strategic cooperative partnership with the Republic of Korea (RoK) as a consistent strategic decision and a long-term priority in its foreign policy.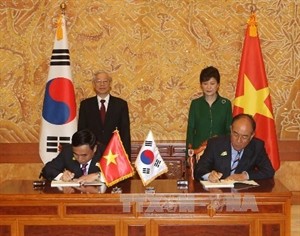 Party General Secretary Nguyen Phu Trong and President Park Geun-hye witnessed the signing of lending agreement for the building of Vam Cong bridge roads. (Photo: VNA)
Party General Secretary Nguyen Phu Trong made this affirmation during talks with RoK President Park Geun-hye in Seoul on October 2 as part of his four-day State visit.
In an atmosphere of openness, friendship and mutual trust, the two leaders updated each other on their respective country's news. They discussed the future orientation of their bilateral relations as well as measures to strengthen their friendship and cooperation further. The leaders also exchanged their views on regional and international issues of common concern.
Both host and guest expressed their delight at the continuous development of bilateral relations since establishing diplomatic ties in 1992 and commencing a strategic cooperative partnership five years ago.
They agreed that Vietnam and the RoK have become important partners and true friends who share many strategic interests. There is however still room to expand the friendship and collaboration, meeting the basic and long-term interests of the two peoples and contributing to regional peace, stability and development.
The two leaders consented to increase meetings between high-ranking leaders, Governments, parliaments and political parties of the two countries in order to enhance mutual understanding and political trust.
They agreed to continue to improve the efficiency of existing strategic and policy dialogue mechanisms in the fields of diplomacy, defence and security. Furthermore, cooperation on the defence industry, military training, capacity enhancement for the peacekeeping and marine law enforcement forces, transnational crime and terrorism prevention was also agreed upon.
General Secretary Nguyen Phu Trong and President Park Geun-hye also reached a consensus to consolidate the current Inter-Governmental Committee mechanism in line with the strategic partnership.
The two sides stressed the importance of boosting economic and trade relations, with a view to reaching 70 billion USD in bilateral trade by 2020, and agreed to complete negotiations on a bilateral Free Trade Agreement (FTA) by the end of this year.
Vietnam welcomes Korean investments in infrastructure, advanced technology, support and manufacturing industries, and agricultural and seafood processing.
The RoK pledged to further facilitate Vietnamese imports into the country, particularly agricultural and aquatic products, while encouraging its businesses to invest in Vietnam.
President Park Geun-hye expressed her wish that the Vietnamese side continue to provide favourable conditions for RoK investors in Vietnam, especially in the fields of energy, infrastructure, transport, finance and banking.
The two leaders agreed to instruct relevant agencies to accelerate negotiations for the early signing of a memorandum of understanding (MoU) on labour recruitment in 2014.
They agreed to strengthen bilateral collaboration in the fields of science-technology, education-training, culture, sports, tourism, local cooperation and people-to-people exchanges.
The two sides pledged to pay more attention to the protection and guarantee of the legitimate interests of Vietnamese nationals living in RoK, and vice-versa.
President Park Geun-hye affirmed that her government would provide more support for the Vietnamese community and Vietnamese-Korean families in the country.
The two sides also looked at ways to intensify coordination and information-sharing on regional and international issues via existing cooperation mechanisms, bilateral communication channels, and multilateral forums, as well as cooperation in the area of peacekeeping.
They highly valued the ASEAN-RoK cooperation and welcomed the RoK efforts to promote the ties in a practical manner.
During the talks, the RoK President expressed her support for Vietnam to host the APEC Summit 2017 and applauded the Southeast Asian country's contribution to the special RoK-ASEAN Summit scheduled for later this year.
Regarding regional development, Vietnam said it backed the RoK's initiatives to boost dialogues, ease tension and build peace and cooperation in the Northeast Asian region.
The two leaders emphasised the importance of maintaining peace, stability, maritime security, safety and freedom in the East Sea. They highlighted necessity for concerned parties to solve disputes via peaceful means in line with international law and the Declaration on the Conduct of Parties in the East Sea (DOC) while striving towards the early conclusion of a Code of Conduct in the East Sea (COC).
Following their talks, Party General Secretary Nguyen Phu Trong and President Park Geun-hye witnessed the signing of four bilateral cooperation documents on addressing post-war bomb and mine consequences in Vietnam, ensuring national quality of defence products and services, lending for the building of Vam Cong bridge roads, and financial cooperation between Vietnam's Ministry of Planning and Investment and RoK's Eximbank.
Later, the two leaders met with reporters to inform them of the outcomes of their talks.